PUBLIC TOURS FOR INDIVIDUALS 
The tours are currently taking  place with a maximum of Ten people. If the number of visitors is too high, the palace can only be visited with an audioguide.
We hope for your understanding.
GUIDED PALACE TOUR
We offer multiple guided tours through the castle several times an hour for solo travelers, couples, and families who aren't traveling as part of a large group. You will follow in the footsteps of the Hohenzollern royal family as you embark on an inspiring journey behind the scenes of history. Take a fascinating walk through more than one thousand years of royal history and culture, getting to know the protagonists and observing architectural change through the centuries while you discover major historic events from a new perspective. Your guide will offer thought-provoking details on the various paintings, furniture, and artistic styles you encounter. The standard palace tour takes about 60 minutes and you'll pass through nearly 20 rooms, parlors, and galleries. You'll be with one of approximately 50 highly trained palace guides, ready to bring history to life. What awaits you is an exciting blend of first-class storytelling peppered with expert insights. Guided tours are usually held in German, with pamphlets available in English, German, French, Dutch, Portuguese, Spanish, Romanian, Russian and Italian. Group tours in English can also be arranged with advance notice.
Tour duration: 60 minutes.
Special feature: No advance registration necessary for solo travelers.
Time: every 20-30 minutes
Combined ticket: Palace (entry + guided tour) + Armory Tour (audio tour) €12.50 per person.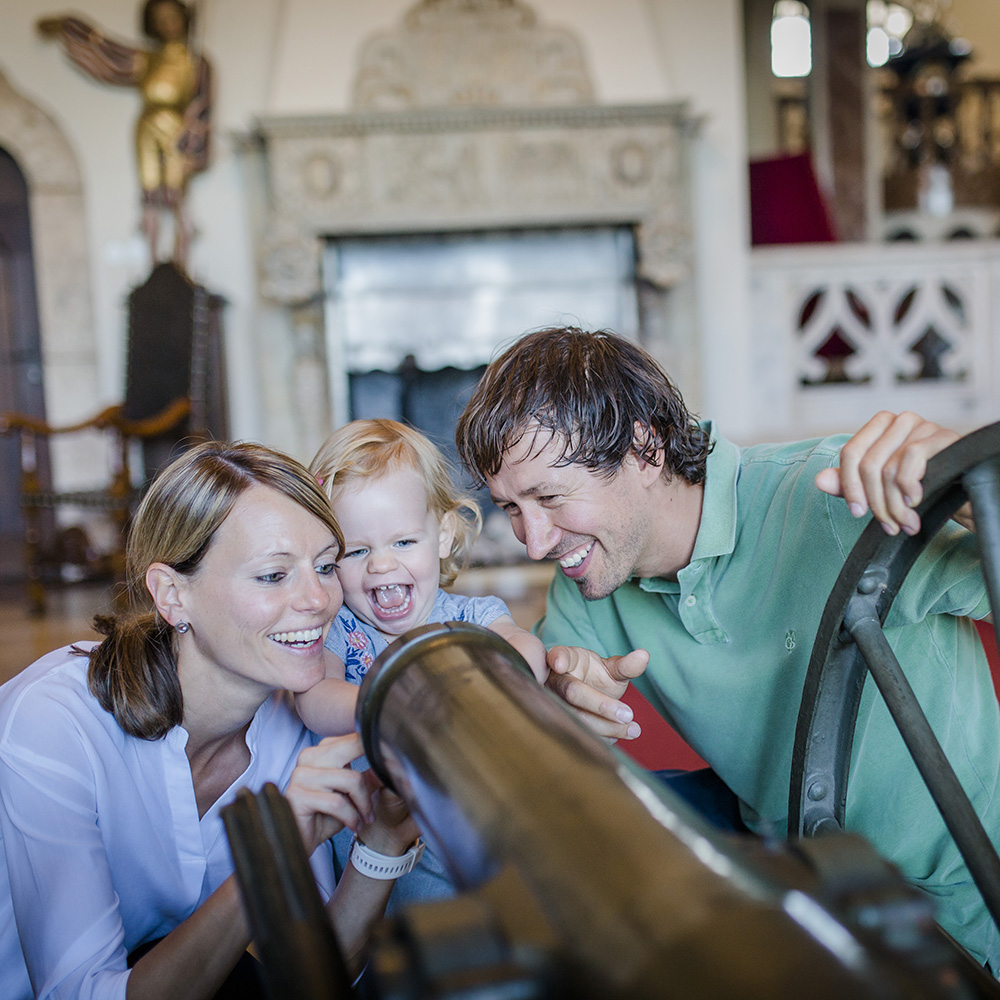 ARMORY AUDIO TOUR
Hohenzollern Palace of Sigmaringen houses one of the largest private weapons and armor collections in Europe, comprising around 3,000 rare and valuable exhibits. You will experience almost 700 years of the history of arms and armor. The majority of the collection dates back to Karl Anton, Prince of Hohenzollern, whose passion for collecting created one the most extensive and extraordinary collections of weapons and armor in Europe. Members of the public have been able to visit the impressive arsenal at Hohenzollern Palace since the 19th century. The exhibits show the history and development of armor and weapons from the 14th century onwards. You'll also learn more about the influence of these weapons on European history, culture, and language. We strongly recommend taking the audio tour to help you explore the armory.
Duration without audio guide: approx. 45 minutes | Audio tour duration: approx. 60 minutes
Special feature: Audio tour | Audio languages: English, French, German
Entrance fee incl. audio guide: €7 per person
Combined ticket: Palace (entry + guided tour) + Armory Tour (audio tour) €12.50